September 24th, 2013 Business Journalism In Age Of New Media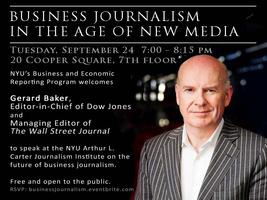 https://businessjournalism.eventbrite.com/?ref=garysguide#
On Tuesday, September 24, 2013, OLC attended Business Journalism In The Age Of New Media featuring Gerard Baker, Editor in Chief of Dow Jones & Co., and Managing Editor of The Wall Street Journal.
Gerard Baker: With the advent of the internet—the world wide web, as we used to call it—business journalism has expanded dramatically. Digital native journalism grew—The Wall Street Journal now sees a number of business journalism on the internet as competition.
With bloggers and writers, the availability of news and gossip has gotten ever greater. There's a danger here. Business journalism relies on reliability and there are a lot of unreliable sources out there. That's dangerous. There's a lot of articles out there without good solid sources and information. The trust in news organization diminishes and news is propelled by trust.
Today, the top 8 financial news organizations had over 100 million visitors in June alone. Business journalism is facing a lot of competition now. At the same time, the finances of news organizations are diminishing. Between 2005 to 2010, there was a 50% drop in print advertisement revenue. Now news organizations are trying to do more with significantly less.
We have a future, however. There are some messages that should be thought about. First being truth.
The pursuit of truth. It's more relevant to us more than ever. The need of truth in business, investors, citizens, in the quality of the news is greater than ever.
Second, speed. Everyone is consuming news in real-time. Soon 75% of content will be read on mobile.
Third, independence. Journalism has to be objective. It cannot be swayed one way or another. More and more news organizations are succumbing to advertisers, but we need to resist that. We need to be fair. It's, in the end, self-defeating, at least on the advertiser's end.
Fourth, the pursuit of accountability. One of the fundamental rules of journalism is to hold powers in account. Investigative journalism is expensive and takes a long time, but we need to stick to accountability. News organizations seems companies as crooks, and in the last 5, 10 years, we've seen a larger government role in our lives. We need to hold corporations and government in check. It's our job to be more vigilant.
We need to be creative. Some digital-native journalism is creative. It's increasing the way readers want to be engaged. It's easy to make fun of modern media headlines. It's rather vulgar, but it's still great journalism. We need—in traditional media—to explore the new digital media. Social engagement and interactive nature of social is something we've just learned to grasp. We need to do much more to survive.